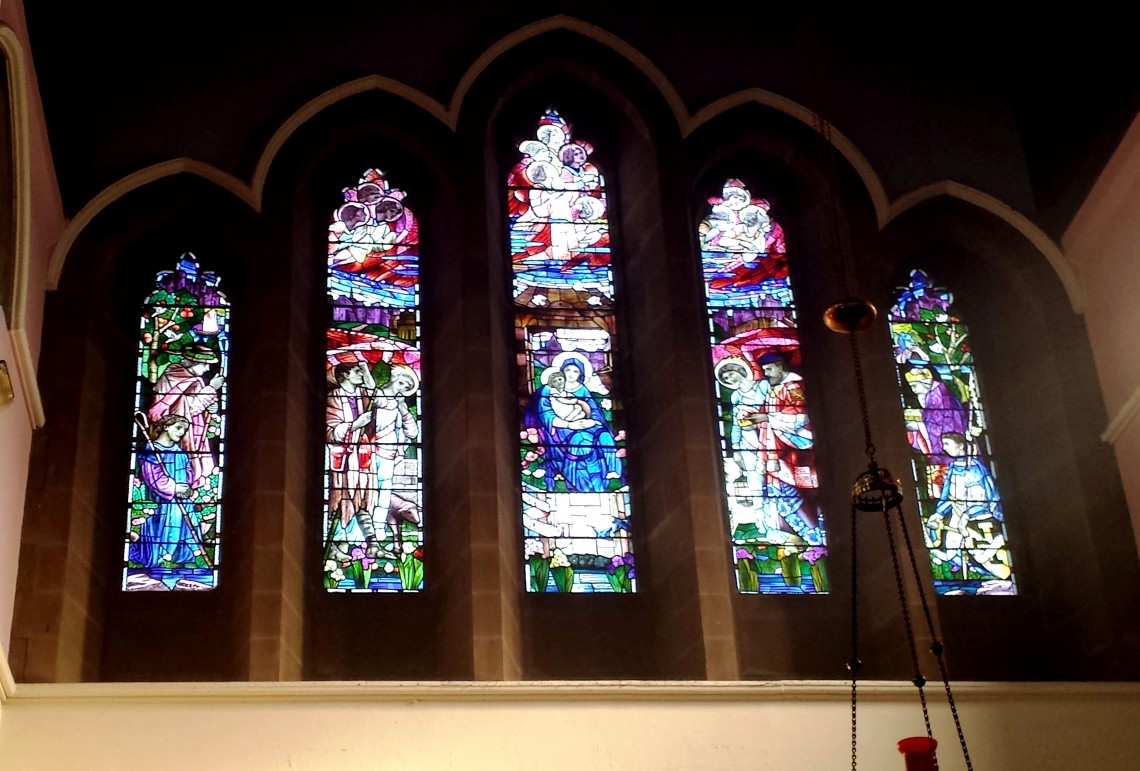 HOLY TRINITY ILKESTON, Granby Street
Festival of Thanksgiving on the 130th Anniversary of the Consecration of the Church 1887-2017
Holy Trinity Church, Ilkeston, will be celebrating 130 years of constant provision of traditional Anglican worship through many changing times. The building outwardly is still the same as in 1887 but underwent a huge change internally in the 1970s to reflect the smaller congregation and the need to provide a space for social and community events. The main chancel became a large hall, making it possible to carry on the tradition of fund raising events such as bazaars and suppers, plus being available for other organisation to use including Brownies and more recently The British Legion for their meetings.  The Sanctuary and former Lady Chapel were reconfigured very sympathetically to provide a much more intimate and comfortable worship area giving flexibility depending on the type of service taking place.
During the weekend there will be a visual display of photographs, including all the past clergy, social and religious events over the years, plus more up-to-date events.  A number of historical artefacts (Ceremonial copes, processional cross, thurible, statues) will also be on display, as well as the Parish Registers for Baptisms and Marriages from 1880 (the church existed in another building prior to 1887).  These will be of interest to many folk in Ilkeston and around who have family connections and associations with Holy Trinity, so why not come along and delve into your family history?
A flower display will depict the theme of the Comfortable Words from the 1928 Book of Common Prayer which are familiar to many who worshipped in the mid-decades of the 20th century:
Hear what comfortable words our Saviour Christ saith unto all who truly turn to him:
Come unto me, all ye that travail and are heavy laden, and I will refresh you (St Matthew xi.28)
So God loved the world, that he gave his only-begotten Son, to the end that all that believe in him should not perish, but have everlasting life (St John, iii.16)
Hear also what Saint Paul saith. This is a true saying, and worthy of all men to be received, That Christ Jesus came into the world to save sinners (1 Timothy i.15)
Hear also what Saint John saith. If any man sin, we have an Advocate with the Father, Jesus Christ the righteous; and he is the propitiation of our sins (St John ii.1, 2)
Holy Trinity is entering a new phase with a revival of a Sunday School, involvement of local infant and primary schools and details of our future mission and outreach will be available.  Currently we support the following charities: Additional Curates Society, SSC, Mission Aviation Fellowship, Mission to Seafarers and the church in Papua New Guinea. In addition, each year, we contribute a proportion of the profits from the Harvest Supper go to a nominated charity and recently, instead of sending individual Christmas cards to each other, we have made donations to the Shelter Christmas Appeal.
The newly formed Sunday School and the well-established Brownies/Rainbows will also have displays of recent projects with which they have been involved.
To complement all the above there will be a second-hand book stall, tombola, raffle, and a homemade cake stall, plus activities for children including face painting, arts and crafts and children's games.  Refreshments will available throughout Saturday. During the morning there will be sausage and bacon rolls, and in the afternoon sandwiches made to order, cakes, scones, tea and coffee.
The culmination of the Thanksgiving weekend will  be celebration at the usual Sung Mass at 11.00am with Fr Giles Orton SSC, our newest addition to the clergy, preaching the sermon.  At 4.00pm there will be Solemn Evensong and Benediction with Fr Darren Smith SSC as preacher.
There will be a warm welcome to all who would like to call in over our weekend of celebrations.  We hope to see you there.
Holy Trinity Clergy and PCC